Kolomoyski tweets:
 Now I'm just an unemployed Ukrainian.
——————
Right Sector will not obey the decision of the authorities to dissolve the volunteer battalions, if one such decision is taken*, said on Wednesday, March 25, the press service of the formation.

The battalion believes that the current Ukrainian authorities are possibly under pressure from the Kremlin to disband illegal formations.
* The reports are that all military units that are not part of the Ukrainian Army and the National Guard were ordered to leave Shirokino [near Mariupol] and the area of the ATO between March 27 and  April 1.
——————
Jet fighters fly low over center of Dnipropetrovsk
——————
Yatsenyuk: The military option is not the best recipe for the resolution of the conflict in the Donbass

… "The military option is not our best recipe and our vision to stop Russian aggression. We accept all political, diplomatic and economic means to stop Russia", – said the prime minister.

Meanwhile, he stressed that without weapons and a strong army it is difficult to achieve success.
——————
A passenger bus, moving from Horlivka in Donetsk, hit a mine near a Ukrainian army checkpoint. … According to the report, 26 people were in the bus.

The deputy head of the regional Ministry of Internal Affairs of Ukraine in Donetsk Oblast, Ilya Kiva, wrote on Facebook, the bus tried to overtake the checkpoint, resulting in tragedy: Three people were killed, six are in serious condition.

As of 22:00, according to the State Administration of Donetsk, the death toll rose to four, 11 injured taken to hospital, including three in serious condition.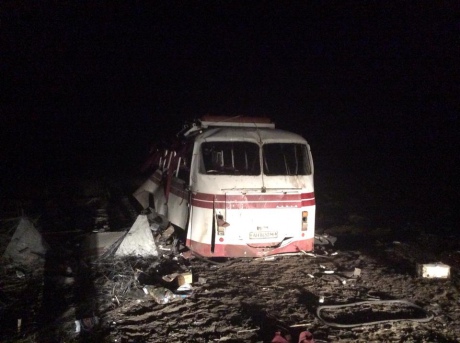 ——————
Members of the extremist organization "Right Sector", the activity of which is prohibited in Russia, fighting in Odessa against illegal construction. The activists tried to demolish the fence construction site, where work continued despite the lack of permission from the court. They were met by security guards, a fight broke out, stones were thrown, the guards fired tear gas. Video Ruptly.
SUPPORT OFFGUARDIAN
If you enjoy OffG's content, please help us make our monthly fund-raising goal and keep the site alive.
For other ways to donate, including direct-transfer bank details click HERE.