Ukraine's President son Alexiy Poroshenko, who is a Verkhovna Rada member, had an accident at the Independence Square in Kiev, Ukrainian media reported.
His BMW 3 coupe-cabriolet, license plate AA 5515 KR was hit by a car full of soldiers from the "Azov", regiment the local Informator site reports.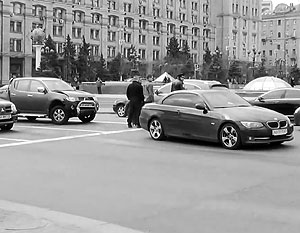 Later the press service of the Ukrainian Interior Ministry confirmed the incident.
"Today, in Kiev at the intersection of Khreshchatyk and Institutskaya St., an accident occurred involving a Mitsubishi car, driven by a soldier from the National Guard battalion "Azov" and a BMW car, which belongs to the people's deputy Alexei Poroshenko. While approaching the traffic lights the Mitsubishi driver did not keep a safe distance and collided with the BMW vehicle in front," the local traffic authorities said in a statement.
According to the Interior Ministry, there were no injuries. After registration by the traffic police both cars went to a workshop to determine the extent of damages.
It was reported that the driver of the Mitsubishi pleaded guilty, the parties have no complaints.
On the Internet there was a video after the accident, published by Channel 17.
As reported by Korrespondent.net, a representative of the President of Ukraine immediately appeared on the scene, a traffic police colonel personally filled the forms related to the accident.
Alexei Poroshenko was elected to the Verkhovna Rada of Ukraine in October last year in the single-member district in the Vinnitsa region. He serves on the Verkhovna Rada Committee on Taxation and customs policy.
SUPPORT OFFGUARDIAN
If you enjoy OffG's content, please help us make our monthly fund-raising goal and keep the site alive.
For other ways to donate, including direct-transfer bank details click HERE.