David Macilwain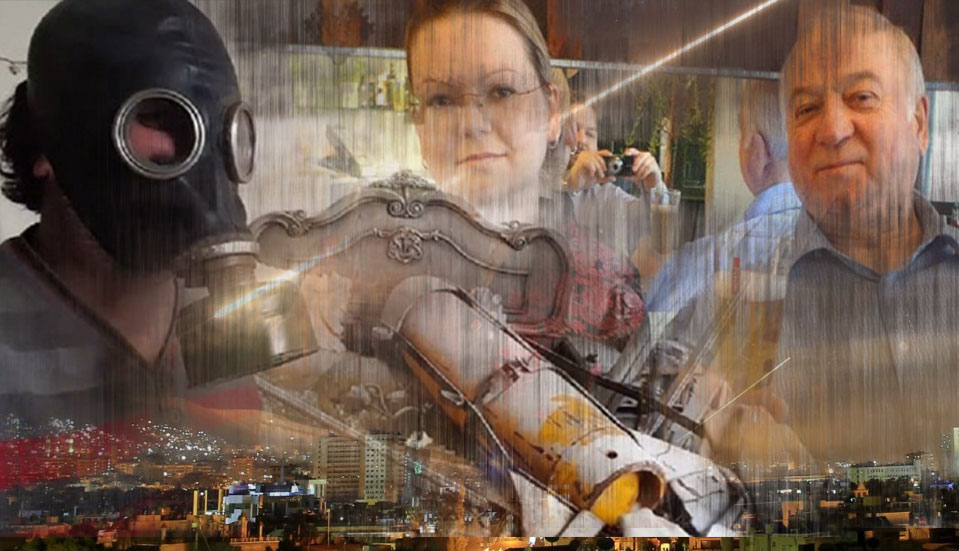 There's no shortage of commentators in the Western mainstream telling us how Russia planned its attack on the Skripals, or how Syria planned its chemical weapons massacres. Anyone who expresses a different opinion from this accepted narrative stands condemned and belittled as a "conspiracy theorist". But the criticism works both ways – for us it is they who are the conspiracy theorists, as well as the conspirators.
The current impasse between the UK and Russia, initiated by the Skripal poisoning on March 4th and
crystallised by the identification of two Russian "suspects" last week, calls for new thinking. Despite what appeared to most Russians – and "dissident" observers – as the complete exposure of the UK's dirty game, where its "smoking gun" evidence was quickly trashed by the appearance of the two "guns" on Russian TV, the UK's leaders and their dutiful media remained unrepentant.
What we are dealing with here is effectively two conspiracy theories, but only one conspirator. The smallest details of the UK's conspiracy theory are familiar to all of us, even if incomprehensible and stretching credibility beyond breaking point:
Two Russian agents, now identified, visited Salisbury in March carrying a bottle of Novichok disguised as perfume, and poured it on the front door knob of a former Russian double agent. Although hospitalised, along with his unwitting daughter, Sergei Skripal survived the assassination attempt. Not only did the Russian plot to kill him fail, but UK intelligence discovered the toxic substance as well as the assassins, and took extremely punitive measures against the Kremlin.
That's their theory.
The Russians' conspiracy theory goes like this:
Those in the UK's version of the Kremlin – which may be No 10 Downing Street, GCHQ or Porton Down – devised "Operation Nina", as I have labelled it, as a major "psy-op" to counter Russia's strategic successes in Syria, where British special forces and mercenaries faced defeat. These forces had already used false-flag chemical weapons provocations in Syria with some success, and were planning another one in Eastern Ghouta, staged by their "White Helmets" poseurs. Staging a similar "chemical weapon attack" on the streets of Salisbury was a clever way to bring the chemical weapon threat home and link that threat to Russia. The wider desire to keep Iranian and Russian gas out of the European market was also a key motivator of the UK's Syria strategy.
Following from this we can see there are also two "arguments for the defence" – refutations of the accusations made by both sides against the other. But it's important to note that these arguments are different; the UK initiated the accusations of the use of chemical weapons by both Syria and Russia, while Russia and Syria initially "denied the claims". (Notwithstanding the UK's claims and widespread belief that Russia and Syria had initiated the chemical attacks that it was responding to)
Regardless of one's affiliation however, what actually counts is evidence, both scientific and circumstantial, and more generally in terms of motive and reward for the act committed. Unfortunately, in the current media and political climate in Western society real evidence counts for little; if it did I wouldn't be writing this article. But it is to be hoped that sooner or later such evidence will be considered by sensible informed people of good will; their conclusions will be monumental and devastating.
So what of this "evidence" on the veracity of the conflicting claims?
Russia's "conspiracy theory" seems plausible. There can be little argument that the alleged Chlorine/Sarin attack in Douma did not take place as claimed; there was no motive for such an attack by Syrian or Russian forces, and no evidence one had taken place. No credible samples were taken from casualties and no residues of chemicals were found by the OPCW.
At the same time the actions and motives of the White Helmets and their partners in Jaish al Islam were quite clear. Enough is already known about the matrix of connections between these terrorist groups and mercenaries and the UK and its coalition allies to incriminate them.
Tying the events in Syria to those claimed in Salisbury is more circumstantial, but nevertheless quite compelling. The timing of the attack on the Skripals and its apparent coordination with the Syrian campaign in Ghouta is highly suggestive, while the link between Porton Down and Syria is substantial, if not umbilical. And it is something no self-respecting conspiracy analyst could ignore.
What we may ignore however, is the need to deny the UK's claims against Russia over the Skripal poisoning. Those claims have already been thoroughly debunked by many serious commentators and analysts, – though as noted earlier – with little effect. More persuasive perhaps is that they have also been quite effectively debunked by "one of the world's leading experts on Chemical Weapons" – former British Army commander of NATO's CBRN force, Hamish de Bretton Gordon. With 23 years' service in the army in the Middle East and Balkans and close links to Porton Down, one could hardly doubt his expertise, and might be reluctant to question his knowledge of chemical weapons agents like Sarin and "Novichok".
It is De Bretton Gordon's expertise and advice that dominates the Western media's commentary and narrative on the alleged chemical weapons attacks in both Salisbury and Syria, as well as the statements and actions of the UK government and its allies. That opinion is of course quite crucial, in evaluating the threat posed by the use of these weapons and in calculating a proportionate response. It is also his opinion and testimony that has been crucial to the establishment of the "Novichok narrative" – something now ingrained in Western populations, and daily reinforced in their media.
Without this expert opinion on the presence and danger of Novichok in Salisbury, the whole Skripal poisoning affair would be nothing more than a "scare" or a hoax.
So what does Hamish de Bretton Gordon say about this deadly nerve agent, that is "seven to ten times as toxic as VX"? How much Novichok was contained in that bottle of Nina Ricci "Premier Jour" that would make it definitely the "dernier jour" for its victim?
"Less than half an eggcup full" he said. Repeatedly .
I have already examined the relevant technical details of Novichok-type nerve agents as well as the incapacitating agent BZ that was found in the Skripal samples, and recommend further examination of the links in that article. This paper in particular gives a good overview of the agents, while this report details both the synthesis and analysis of Novichok agents by Iranian scientists, for the OPCW.
Thanks however to De Bretton Gordon's expert opinion, it is only necessary to focus here on the toxicity of Novichok. According to the OPCW, the LD 50 – that is the quantity required to kill 50% of the target population – of VX is 10 milligrams by skin contact. The equivalent for Novichok would be less than 1.5 milligrams as he explains:
We now know that the attack in Salisbury, the ultra-secret and very deadly nerve agent novichok was used. The two Russian suspects we know are Russian military intelligence officers and they brought the novichok from Russia with them two days before the attack.

It is thought to be 10 times more toxic than VX and very persistent. Probably less than half an egg cup full of agent transfixed the world for two weeks and greatly increased the tensions between the west and Russia."
Half an eggcup full is about 15 mls or 15 grams, which is about 10,000 times the LD 50. So had this amount of Novichok been distributed around Salisbury there was sufficient to kill about 5,000 people. FIVE THOUSAND PEOPLE.
So how to explain that not even the Skripals, who allegedly got the stuff on their hands, were killed by it? What is so difficult to understand about this?
If Russia – for reasons unknown – had really wanted to kill Sergei Skripal with this toxic nerve agent, why wouldn't they have brought it in a small glass phial containing just one drop – about fifty times the LD50 – and spilt its contents on him while he was sitting on the park bench?
But we needn't ask that question, because Russia didn't want to kill Sergei Skripal or his daughter Yulia, leave alone kill or injure half the population of Salisbury – by accident.
The question we do have to ask is why thousands of highly trained scientists in the UK refuse to call out the lie being told by their government; the Novichok story is a highly toxic HOAX!
---
SUPPORT OFFGUARDIAN
For direct-transfer bank details click here.