Denis Churilov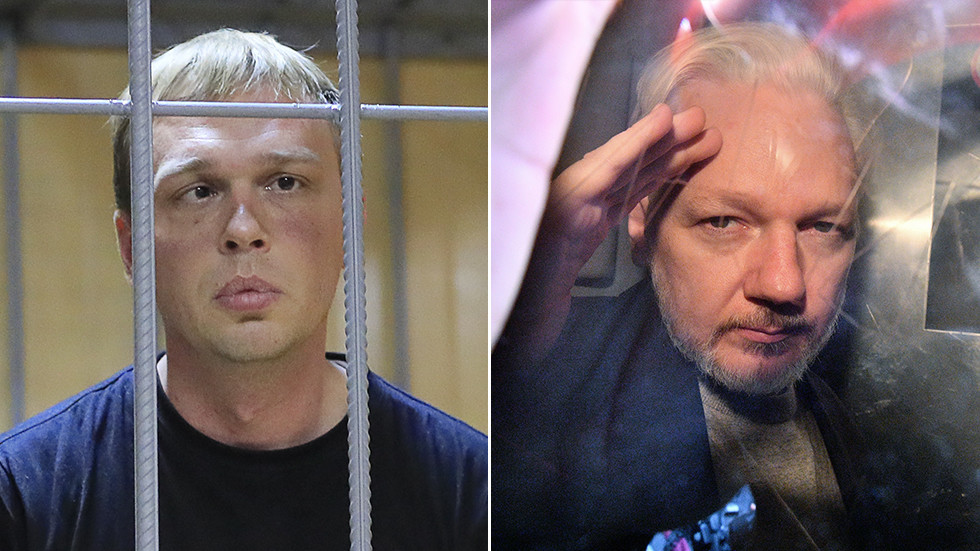 A Russian investigative journalist, Ivan Golunov, who has been writing primarily about corruption within the government, got arrested earlier this month on drug charges in Moscow.
The circumstances of his arrest and the pieces of information released to the public were dubious, to say the least, so the Russian public backlashed at the government. We saw a mass uproar on social media AND the mainstream media (even my apolitical Russian friends have been sending me links related to the story).
Three major Russian newspapers, Kommersant, RBK, and Vedomosti, came out with identical front pages in his support, saying "I/We Are Ivan Golunov".
Virtually all journalistic community rallied behind him. TV-news personas, such as Irada Zeynalova of NTV (a federal channel that has a reputation of being blatantly pro-government), were making statements on air in end-of-the-week news programs, saying that Golunov's case is a "test for all of us".
Multiple marches, both sanctioned and unsanctioned, with people demanding Golunov's release, were planned for Russia Day and the following weekend.
Within mere days, the MVD (Russian Ministry of Internal Affairs) dropped charges against Golunov, citing insufficient evidence.
Regional MVD directors who sanctioned the arrest are now being sacked from their positions.  An investigation is being launched.
Further, Russians are now having a nation-wide debate about the need for the MVD reform, particularly regarding the way the authorities handle drug-related offences.
Interestingly, some of the pro-government publicists who are employed by the state-funded entities such as VGTRK have come out with an official apology, saying that they were wrong to smear him and that they feel ashamed of what they were initially saying about his drug charges.
Ivan Golunov was arrested on June 6.  It took less than a week for the Russian journalistic community to gain enough support for their colleague and to create enough public resonance for the higher authorities to pay attention to the case.  Golunov was released on June 11.
Now, tell me again how all Russian media is state-controlled, and how Western media is free. Does the name Julian Assange ring a bell at all?
There was no outcry in the Western mainstream media when Assange was forcefully dragged out from the Ecuadorian embassy in London in April this year. 
In fact, nobody seemed to care that much. The only available footage of his arrest, the footage that the other media outlets have ended up licencing, was shot by RT crew.  No other media outlets were present at the scene when the arrest happened, even though everyone was expecting it to happen for days by then.
There were very few voices in the mainstream media rallying behind Assange. The dominant majority of the coverage ranged from indifferent to outright smear, getting as bad as saying that Assange "got what he deserved", with the authors trying to convince their audience not to fall for his "phony pleas for sympathy, his megalomania,"> and his "promiscuity with the facts" (sic!).
That says a lot about the current state of the Western mainstream media, doesn't it?
Going back to Golunov case, there are still a few questions to be answered.  We don't have all the information at this stage, and there are numerous rumours, speculations and conspiracy theories that you can find in the Russian blogosphere at the moment, suggesting that there are different cliques within the Russian power groups who are trying to compromise each other informationally by setting up such incidents that cause public uproar. 
I wouldn't be able to comment on those as, again, we lack verifiable information, but it is just that the Golunov arrest (he is employed by Meduza, by the way, a Latvian based Russian opposition media outlet funded, among others, by Mikhail Khodorkovsky, a Russian oligarch in exile and a long-time Putin's antagonist) strangely coincided with the opening of the St. Petersburg International Economic Forum 2019, and it happened exactly two weeks prior Putin's annual Direct Line Q&A event.  But it could be just a coincidence, and, judging by everything we know so far, it was, indeed, a case of routine corruption within the Russian Internal Affairs Ministry.
Either way, since the precedent has been set and Golunov is now making international headlines, I advise you to look into the case of Kirill Vyshinsky, a Ukrainian journalist who was working for Russia's RIA Novosti in Ukraine and who has been in custody in Kiev for over a year now on the charges of…treason.
Or maybe you should look into names such as Oles Buzina, a Ukrainian opposition journalist who was murdered in 2015 by two members of the C14 neo-nazi group who still walk free, or Oleg Kalashnikov, or the dozensof other journalists and political activists who have been either assassinated or repressed in Ukraine since the 2014 Euromaidan regime change.
If you get your information exclusively from the Western mainstream media, the chances are that you've never heard of those cases, because the current Kiev government is pro-US, so it is okay with the, so-called, "international community".
SUPPORT OFFGUARDIAN
For direct-transfer bank details click here.