W Stephen Gilbert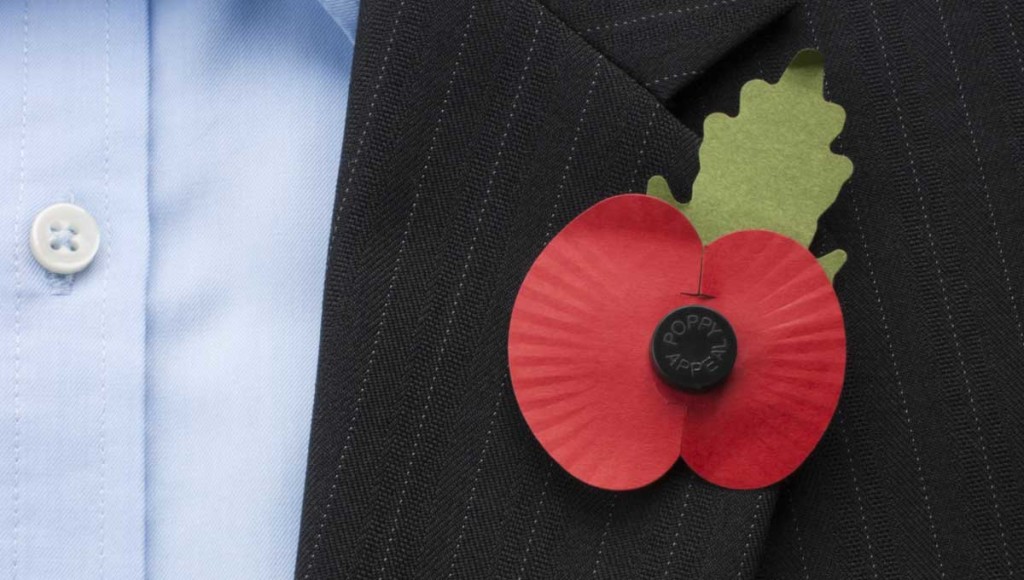 We're entering the poppy season again. Soon we'll be able to play the game of spotting the parliamentarian, business executive or home-based television presenter, especially in news and current affairs, who isn't wearing the symbol of the fallen soldier in his lapel or on her blouse.
It's a demanding game, because almost certainly there won't be one.
The remembrance poppy is unique in this respect.  No newsreader would dare sport an emblem supporting, say, Extinction Rebellion or Pride or breast cancer awareness. These symbols would be thought to compromise the broadcasters' neutrality.  But national broadcasting services are not neutral about national remembrance.
Meanwhile, successive Secretaries of State for Health daily wear enamel broaches declaring their support for the NHS, even as they collaborate in dismantling the very service that they cynically promote, but no other public figure wears one, nor would a television presenter be permitted to do so. 
And we know from the BBC's ham-fisted treatment of Breakfast presenter Naga Munchetty that the evil of racism, about which the Corporation considers itself to be politically sound, is not a subject on which its tolerance extends very far. Its staff may oppose racism in a general sense, but not with specificity.
Since the last survivors of service in the Great War died and the respective centenaries have passed, the ubiquity of the crepe-paper symbol may be in a certain decline.  Still, though, it has a practical significance.
Politicians have their electorates to impress and it's a foolhardy MP who doesn't grab a poppy at the earliest opportunity (some have even been suspected of saving their emblem from year to year in order to be the first sighted in the House).
Since Tony Blair's premiership, the start of the parliamentary poppy season has slipped back.  Blair evidently had to be dissuaded by his advisors from wearing his poppy at the end of August.  This was a solecism, of course.
The poppy's official run is from All Souls' Day (November 2nd) until Remembrance Day, the 11th (a Monday this year).  Proper people who respect tradition know this and keep to it.  I'll bet Her Majesty doesn't wear an October poppy, nor any of the royal household.
Braver still would be the (as yet unseen) MP who forswears the poppy altogether or – worse yet, though widely misunderstood – counters with a white poppy.
The Women's Cooperative Guild devised the white poppy in the 1930s to memorialise the non-combatants who died in the First World War and to stand as a symbol of peace.  
Red poppyists are apt to blackguard the white poppy as a symbol of cowardice, appeasement, pacificism and every other unspeakable sin attributable to commies, lefties and subversives.  Poppycock.  It's academic anyway.  Where could you buy one?
You don't see many poppy-wearers in the street these days because, quite frankly, you don't see many poppy-sellers in the street.  Only if you popped into a branch of the British Legion would you be able to pick one up.
In my 1950s childhood, as October turned to November, there'd be a poppy-seller on every street corner, vying with the penny-for-the-guy kids; but both figures have melted away.
Bonfire Night, Firework Night or Guy Fawkes Night (as November 5th was variously known) has been displaced by Halloween, an American device imperfectly grasped by British children.  Those who fought in the Second World War are too old to stand on draughty street corners and their children and grandchildren aren't so interested in Remembrance.  
Thus wearing the poppy has become a phenomenon that you see on television, something public figures do.
The BBC always protests that poppy-wearing is voluntary among newsreaders, weather forecasters and other studio-visiting pundits, but it seems most unlikely that anybody fronting for the Corporation who declined to pin on the symbol would hold onto the job for long.
Some pretext would be found for the change, but it would be for defying what is clearly an unwritten house rule.  The BBC regards the poppy as politically neutral, which of course it isn't.
I have several objections to the poppy.  
First, I dislike ostentatious displays of charitable donation.  I think a sandwich board that shouts "I gave" is vulgar and self-serving, and that is what the poppy is, even if BBC people or MPs are 'issued' with poppies without any actual donation being made.  The fact that I don't wear a poppy doesn't mean that I don't make a donation to the British Legion.  You don't need to know whether I do or not.  It's my business.
Second, I don't see why one has to conform to someone else's timetable.  When I was a student, I bought a poppy in November, put it away and then got it out again and wore it in April.  I told those who enquired that if the fallen were worth remembering in autumn, they were just as worth remembering in spring.  People got surprisingly cross.  They thought I was taking the piss. Perhaps I was, I don't remember.  Mostly, I think I was making a debatable point.
Thirdly, there isn't just a poppy.  There's a single poppy, a poppy with leaf trim, a poppy with double-leaf trim, a double poppy with double-leaf trim and, doubtless, a poppy corsage.  This brings in an element of competition, particularly among MPs, over who appears more generous or supportive or ingratiating or pretentious.
So the poppy is not an affectless gesture, a simple show of respect, as BBC managers would have us believe.  It is a surprisingly complex symbol of establishmentarianism.  It identifies the wearers as part of a tribe, the tribe that, had it been of age then, would have been proud to join up and fight the Kaiser and the Hun or the Führer and the Nazis, even without all the modifications that hindsight brings.
If it weren't for the fact that all factions of the Commons sport the poppy, from the unreconstructed militarists and self-defining patriots to those progressives and negotiationists who oppose incursions against other sovereign nations, we could accuse MPs of, in their own quaint expression, 'playing politics' with the war dead.
As it is, we are faced with a solid wall of convention, the poppy-wearing class.
It is odd that such a tiny proportion of the general public now identifies with that class by the most direct and simple means, themselves wearing a poppy.  Perhaps there are the stirrings here of a genuine anti-establishment movement.
There is a wider and more shaming context for the obedient gesture that public figures eagerly engage every autumn.  The fact is that those who willingly (and sometimes compulsorily) go off to engage in combat on behalf on these islands enjoy pitiful thanks for it. 
The physically, mentally and psychologically maimed receive support far from commensurate with that quality that is bruited abroad with promiscuous abandon in Remembrance celebrations – their sacrifice.
For 98 years, the Royal British Legion has attempted to fill the gap in support for the war-affected left by successive governments.  That the Legion is no longer able to provide sufficient largesse is illustrated by the launch of Help for Heroes twelve years ago.  There are numerous other smaller, more targeted organisations that raise funds for veterans.
Political leaders worship at the altar of 'our boys' when war is being waged, but every generation systematically neglects its boys once hostilities are over.  From the shell-shocked of World War I to the front-line troops disabled by the chemicals and explosives they are exposed to in modern warfare, the casualties are of no interest and are even a nuisance.  They seek in vain compensation for the sacrifices they were required to make.
Kipling's superb poem, Tommy, which created the Joe-Soap-for-a-soldier name of 'Tommy Atkins', catches the ambivalence of society to the battery-fodder soldiery, even a century ago.  This is its last stanza:
You talk o' better food for us, an' schools, an' fires, an' all:
We'll wait for extry rations if you treat us rational.
Don't mess about the cook-room slops, but prove it to our face
The Widow's Uniform is not the soldier-man's disgrace.
For it's Tommy this, an' Tommy that, an' "Chuck him out the brute!"
But it's "Saviour of 'is country" when the guns begin to shoot;
An' it's Tommy this, an' Tommy that, an' anything you please;
An' Tommy ain't a bloomin' fool – you bet that Tommy sees!
– Epitaphs of the War 1914-'18
Kipling was aghast at the conduct of the First War and found expression of his feelings again and again in poetry.  This simple, devastating couplet is the whole of a verse entitled Common Form:
If any question why we died,
Tell them, because our fathers lied.
ibid
No society has any use for the maimed regular or the demobbed conscript because he reminds it of its stupidity and aggression. The bellicose Mr Blair was no less inattentive to those who returned from war service injured in mind and body than any prime minister before him or since. 
Indeed, his government, unlike those of most EU countries and even the US, until very late in the day gave no financial assistance of any kind to its own citizens injured or bereaved by terrorist action abroad.  The trumpeted War on Terror was not, it seemed, conducted as a war on behalf of human decency.
This leads us to the thorny issue of charity in its wider applications.  Civic-minded people among the ranks of the comfortably-off pride themselves on the time and financial support they give to what are speciously termed 'good causes'.  Members of the entertaining classes (actors, musicians, comedians) promote themselves through their 'charitable work' for public honours that their talents would not by themselves be sufficient to earn. 
What these ostentatiously civic-minded people are doing is releasing governments from the obligation to help the disadvantaged.  If fund-raising drives and telethons can bring in respectable levels of donation, governments can forget about supporting those who may not vote for them and set about lowering taxes for the wealthy.
Does that suggest that the citizenry should give up giving to charity?  There will always be those in need, however buoyant the general economy, however progressive the ministers deploying financial support and investment. 
But we live in an age when the chasm between the secure and the vulnerable is so wide that charitably-supported food banks are necessary in Britain, one of the richest countries in the world, to prevent starvation among the poor, and when the unprecedented number of rough sleepers contains a high proportion of those who have fought in combat that their governments sent them to face and to whom the sound of the Cenotaph celebrations rings hollow.
Moreover, there have been shaming scandals concerning the exploitative behaviour of charity workers, particularly that of Oxfam operatives in Haiti.  Questions have been raised about how far charitable funds reach those for whom they are intended and how much is creamed off by over-remunerated managers and corrupt politicians. 
Those celebrities who parade themselves as role models of generosity are too often found to demand payment and other considerations for the services they purport to give freely.
The participation of public figures in charitable drives is part of an exercise in peer pressure.  This kind of emphasis has become the primary tool in fund-raising. 
On social media now, people solicit for charities as if you have a bounden duty to contribute when sending them birthday wishes: "For my birthday, I'm asking for donations for…"
This is peer pressure, designed to make you look or (at least and perhaps better) feel mean if you keep your hand in your pocket.  But one person's charity isn't necessarily another person's, nor is one obliged to be seen to contribute – I might prefer to donate without anyone knowing about it.
Indeed, many of us give on behalf of good causes on a regular basis without even being aware of it.  By buying lottery tickets, one supports a range of projects from Wembley Stadium to art-house movies, as well as charities.
Insofar as international charity – now a business worth billions of dollars – has become a substitute for governmental responsibility, it is a treacherous participant in the public discourse. 
Next time some twinkling game show host bounds on at the top of the programme with a poppy in his lapel (always provided of course that the edition wasn't recorded back in February), take a moment to ponder what his motives might be.  They may be rather less philanthropic than he would have you believe.
SUPPORT OFFGUARDIAN
For direct-transfer bank details click here.