News and opinion website The Huffington Post has written about my campaign to crowdfund a documentary about the 2013 BBC Panorama programme Saving Syria's Children.
Keith Allen Thinks The BBC May Have Faked 'Apocalyptic' Attack In Syria was published on May 4th 2019. Some notes in response follow.
Stuart says he has spent nearly six years compiling "a mountain of evidence" that shows the BBC's footage was "faked". He claims the national broadcaster worked "cheek by jowl with Isis" to produce the Panorama documentary, which was broadcast in September 2013.
Evidence that sequences in Saving Syria's Children were fabricated is set out on my blog. Readers are free to make their own topographical analogies.
During the programme's making BBC Panorama reporter Ian Pannell and cameraman Darren Conway were embedded with then ISIS partner group Ahrar al-Sham – a group described elsewhere by the BBC as "hard-line Islamist". Less than three weeks earlier Ahrar al-Sham, ISIS and other groups together killed over 190 civilians, including women, children and elderly men, and kidnapped over 200 mostly women and children.
In the programme's climactic scenes of the aftermath of an alleged incendiary attack the BBC crew filmed at close quarters an ambulance prominently bearing the ISIS emblem and its militarily attired occupants, at least one of whom was armed.
The NBC News article cited features an interview with a single volunteer doctor named "Roula". This is clearly Dr Rola Hallam. Dr Hallam and Dr Saleyha Ahsan were being followed by the BBC Panorama team of reporter Ian Pannell and cameraman Darren Conway as they visited hospitals run by the UK charity Hand in Hand for Syria. As such Hallam was central to the BBC reports in question and cannot be considered an independent commentator. [1] [2] [3] [4]
The Violations Documentation Centre in Syria report cited gives the time of the alleged attack as follows:
On 26 Aug 2013, at 02:00 pm, the Syrian air forces shelled 'Iqraa' Institution in Orm Al Kubra in Aleppo, which had been under the Free Army's control for several months then.
The VDCS report also quotes Mustapha Haid, "Head of 'Doulati Organization/My State Organization'":
At 3 in the afternoon, On 26 Aug 2013, I was in Al Atareb City and I heard rumours about a 'chemical attack' on Orm Al Kubra and that tens of casualties were brought to Al Atareb Hospital.
However the BBC has categorically stated in complaints correspondence that:
The attack happened on the 26th of August at around 5.30pm at the end of the school day.[5]
The VDCS report quotes a second witness, Issa Obeid, "Head of Nursing Department in Al Atareb Hospital", who provides a first-hand account of his actions at Atareb Hospital:
We washed the casualties with water and serums after taking off their clothes. We used 'Florasline' liniment on the burnt areas and provided the casualties with fluids and some of them were given tranquilizers like Morphine.
However on 26 August 2013 Issa (or Iessa) Obied would appear not to have been present at Atareb but to have been attending a battle first aid training course in Antakia, Turkey. [6]
Iessa Obied has been photographed posing with an arsenal of weaponry including assault rifles, an anti-aircraft gun and a shoulder-launched surface-to-air missile. [7] [8]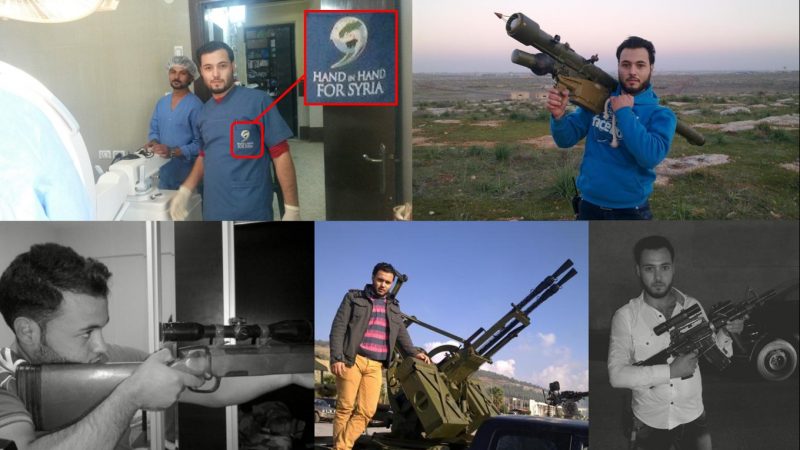 The Huffington Post reports that the strike was "confirmed by Human Rights Watch". However Mary Wareham, Advocacy Director of HRW's Arms Division, stated in a contemporary (August 2013) article that Human Rights Watch has "not investigated this incident". [9]
HuffPost UK asked a team of ex-military and medical professionals who teach hostile environment training to view the full Panorama footage to comment on its authenticity.
Questions about Hostile Environment Awareness Training, the company cited by the Huffington Post, are raised by journalist Kit Klarenberg.
With the predictability of Chinese water torture, York's once again written a propagandistic ad hominem hatchet job on an independent researcher, in this case @cerumol. Leaving aside his puerile insults, the 'experts' he apparently consulted are worthy of close investigation… https://t.co/V47WfyWv3E

— Kit Klarenberg (@KitKlarenberg) May 4, 2019
They described it as "legitimate" and "consistent with chemical exposure", adding the select footage in Stuart and Allen's promotional video had been "cleverly" edited in a way to manipulate the viewer.
The BBC has been at pains to assert "that this was an attack using an incendiary device, rather than a chemical weapon."
As noted on my blog a GMC registered doctor with burns experience has concluded that the scenes of alleged incendiary bomb victims arriving at Atareb Hospital in Saving Syria's Children were "an act". Further sceptical comment by medical professionals, including former UK and US military personnel, plus observations by lay people with experience of burns victims, is collated here. [10]
None of the BBC footage used in the crowdfunding video has been altered in any way, save for basic editing techniques such as freeze frame and fade.
Stuart also takes issue with the fact the documentary makers – reporter Ian Pannell and cameraman Darren Conway – worked alongside the armed Islamist groups that controlled the Aleppo region where Atarib is situated.
When required, all major media organisations negotiate access with whoever controls the area in question. Numerous journalists have risked their lives to report on what is happening inside Taliban-controlled Afghanistan, Hamas-controlled Gaza or Boko Haram-controlled Nigeria, for example.
It is clearly in the public interest for BBC audiences to be made aware that a portion of their license fee revenue has apparently been paid to a jihadist group co-founded by "one of Osama bin Laden's most trusted couriers".
The BBC rebutted the claims made by Stuart and Allen in a statement to HuffPost UK, saying there is "absolutely no evidence that any part of the programme was fabricated".
It added: "Any such suggestion is offensive to the victims, medics and reporters."
This statement was published on Facebook by BBC Panorama editor Rachel Jupp over two years ago in response to challenges made by film, television and radio producer Victor Lewis-Smith.
An RT report based on Stuart's work was found to be in breach of Ofcom broadcasting rules and described as "materially misleading".
Some important caveats in Ofcom's finding against the RT programme in question have been noted by OffGuardian:
To be clear, according to OfCom's own description of its remit, in the dispute between RT and the BBC, OfCom did not look into the BBC's accuracy or credibility. Nor did OfCom investigate whether RT's allegations of fakery were true or false. In fact the Broadcast Bulletin makes it clear OfCom ruled in favour of the BBC based solely on two things:
A) a finding that RT had broken "Rule 7 of the Code", which requires a broadcaster to allow sufficient right of reply to anyone accused.
B) a finding that RT had infringed "Rule 2.2 of the Code" which requires a broadcaster not to present facts in a way likely to "mislead the viewer" – based on the fact RT had referred to Robert Stuart's ongoing investigation into the BBC's Panorama program as a "massive public investigation", when OfCom thought the size of his investigation did not merit such an epithet.
Anyone can visit Robert Stuart's website and decide for themselves if his investigation can fairly be described as "massive", but the extent to which OfCom's findings are themselves factual inaccuracies I'll leave for others to explore. The most significant point here is that OfCom has specifically not cleared the BBC of suspicion of wrongdoing, and is not claiming to have done so.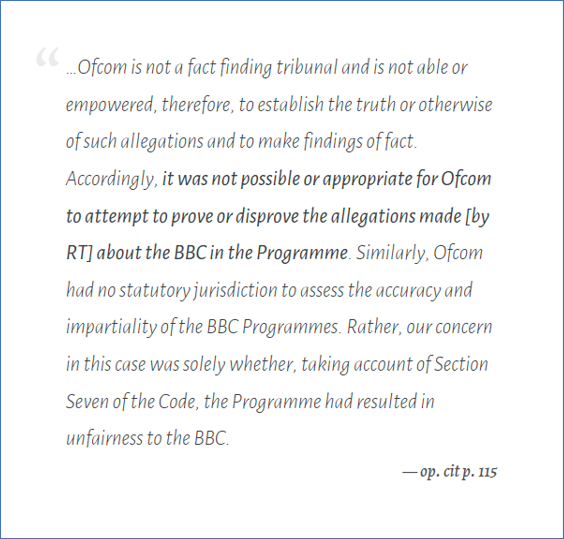 Notes
[1] At the time the BBC Panorama programme Saving Syria's Children aired in 2013 Dr Hallam's father, Dr Mousa al-Kurdi, was a prominent Syrian opposition advocate who in 2012 had personally lobbied senior political representatives of NATO member states, including US State Department spokesperson Victoria Nuland and Turkish Foreign Minister Ahmet Davutoğlu, to either intervene directly on the side of the opposition in Syria or to provide arms to the Free Syrian Army.
[2] The NBC article reports Hallam's claim that the first case she received was a seven month old baby who "was covered in full-body burns". Hallam has elsewhere stated that the baby had "80% burns".
However Dr Saleyha Ahsan, who is seen treating the infant in the same room as Dr Hallam in Saving Syria's Children, has stated that the child had "nasty scolds [sic] on his legs". Stills from the programme do not make it clear that the child had sustained any burns at all.
Hallam, Ahsan and BBC reporter Ian Pannell have made contradictory claims about whether the baby was the first victim to arrive at Atareb Hospital on 26 August 2013. Hallam and Ahsan have additionally made self-contradictory claims on the topic.
Speaking at the Women of the World Summit in New York in 2017 Hallam gave an account of the attack which is at considerable variance with the BBC Panorama narrative, notably introducing a warplane flying over the hospital necessitating the staff's retreat to the basement prior to the victims' arrival. In stark contradiction Ahsan has claimed that she "was sitting on the hospital balcony… …drinking my fifth cup of sweet, sugary tea" immediately prior to the influx of casualties.
Numerous further striking inconsistencies exist in the accounts of the alleged attack by Saleyha Ahsan and Ian Pannell.
[3] Hallam, who is of Syrian heritage, describes an exchange with a sixteen year old female victim, presumably conducted in Arabic:
She took a deep breath and asked me, 'Do you think my face is going to be mutilated?' I said, 'I don't know. I hope not.' She said: 'All I was trying to do was study for my exams. I was just trying to do my baccalaureate because I want to be like you. I want to be a doctor.'"
Describing what is clearly the same incident a month later in The Independent Dr Ahsan claims that the girl's question about her face was addressed in English to her (Dr Ahsan):
One girl spoke to me in English. I was humbled by her efforts despite her terrible pain. "How bad is my face, ukhti?" Her mother cried by her side. The girl, composed and calm but in obvious pain asked. "Do you think they can fix my face?" She continued in Arabic, speaking to Dr Rola Hallam my fellow British colleague, who is of Syrian origin. "I was just at school studying… because I want to be like you – a doctor to help people."
Compounding the contradictions, in a BMJ blog post published the next day Ahsan attributes the question about the girl's face to the child's mother rather than to the girl herself.
[4] The NBC article is also notable in claiming that NBC News' Richard Engel had spoken to a female victim of the alleged attack. However the words attributed to the woman appear to have been lifted from a YouTube video. Serious questions over NBC's reporting of stories involving Engel have previously arisen.
[5] There is a six hour range in accounts of the time of the alleged attack.
[6] As deduced from the following Facebook posts.
(a) Iessa Obied outside Hotel Liwan, Antakia, Turkey. Upload date 25 August 2013.
(b) Iessa with his older brother, Atareb Hospital's then Medical Director Abdulrahman Obied, in the restaurant-bar of Hotel Liwan. Upload date 26 August 2013, the day of the alleged napalm attack and subsequent treatment of alleged victims at Atareb Hospital as portrayed in Saving Syria's Children.
(c) Abdulrahman Obied (second right) and other Atareb Hospital staff members "attending a battle first aid training course in Antakia, Turkey" in a post (subsequently deleted) uploaded to Atareb Hospital's Facebook page on 26 August 2013, the date of the alleged napalm attack. Missing from this photo is Iessa Obied, who perhaps took the picture).
(d) Abdulrahman Obied (second left) wearing same shirt as in image (c) participating in first aid training. Upload date 26 August 2013.
(e) Iessa Obied (red t-shirt) participating in first aid training. While the upload date is 29 August 2013, Iessa Obied's t-shirt is the same as in image (b), the man immediately above Iessa (another Atareb employee) is wearing the same shirt as in image (c) and the man second left is wearing the same checked shirt as in image (d). As images (b), (c) and (d) were uploaded to separate Facebook accounts on 26 August 2013 the strong likelihood is that they were all taken on that date – the day of the battle first aid training course – and that the above image was also taken on 26 August 2013 but was uploaded to Facebook by Iessa Obied three days later.
(f) Iessa Obied on the Orontes River bridge, Antakya. Upload date 26 August 2013.
Further undermining Iessa Obied's first-hand account of his supposed actions at Atareb Hospital on 26 August 2013 is the fact that he does not appear among the medics and orderlies attending to alleged casualties during the relevant sequences in Saving Syria's Children (from 30:38).
Interestingly, it would appear that virtually the entire staff team of Atareb Hospital was substituted between two sequences in Saving Syria's Children. During Drs Hallam and Ahsan's first visit to the hospital (from 05:47 to 08:22 in the programme) Atareb's Medical Director Abdulrahman Obied is filmed speaking with Dr Hallam and the medic far left in (c) above is also glimpsed.
However, of the many medics and orderlies who are filmed at the hospital a few days later on 26 August 2013 during the alleged crisis sequences (from 30:38), only one is clearly identifiable from the earlier section of the programme.
[7] The Charity Commission found that the images did "not raise sufficient regulatory concern".
[8] Obied has also posted an affectionate photograph of himself with former freelance Reuters photographer Amer Alfaj. Alfaj has been photographed attending the firing of a "Hell cannon" mortar and has posted images celebrating the munition, some including small children.
[9] In the Human Rights Watch report cited by The Huffington Post, Saleyha Ahsan states that fifteen year old Anas Said Ali "died two weeks later from complications caused by the severe burns". This contradicts both the Violations Documentation Centre in Syria, whose list of casualties states that Anas Said Ali (Anas al-Sayed Ali) died on 26 August 2013, the day of the alleged attack, and the BBC, which in complaints correspondence stated that Said Ali died "a few days later in hospital in Turkey".
[10] Two more recent relevant observations.
I'm a US board certified MD. My jaw dropped when I saw the burn victims walking like zombies. A impartial medical investigation should be launched into this incident, especially that there were 2 MDs present. One of them had the time to talk to the reporters, really?

— Art Peace #Tulsi2020 (@theart4peace) May 7, 2019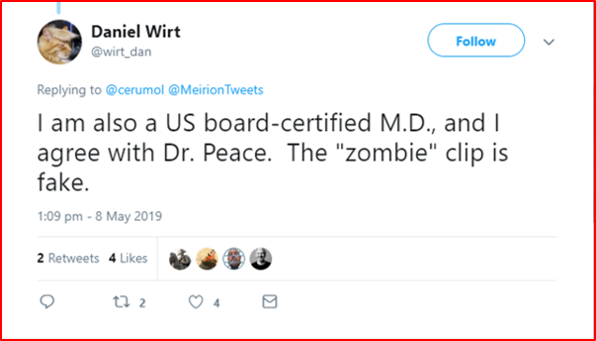 SUPPORT OFFGUARDIAN
For direct-transfer bank details click here.