The breaking news right now is an alleged "terrorist attack" on London Bridge. The story as reported so far is a man, wearing a "hoax suicide vest", attacked and stabbed several people near the north end of London bridge.
The man was set upon by the public, disarmed and held until armed police arrived, at which point he was shot dead.
There is video, it is hardly graphic, but if you're easily disturbed by violence this is your fair warning:
WARNING: Disturbing Video from #LondonBridge shooting incident. pic.twitter.com/nPUuUAQeMr

— Afshin Rattansi (@afshinrattansi) November 29, 2019
It has been confirmed by the police that man was unarmed and restrained when he was shot. Which appears to be the case in the video.
It is now being reported that two of the (as yet unknown number of) victims have died of their wounds. No names or other information is currently available.
Another video – available here on the Mirror's website – shows a man running away from the affray, carrying a knife. One can assume this was the knife used in the alleged attack. [If anyone can find a copy of this video anywhere, please let us know.]
The man in the video has already been dubbed the "hero", for allegedly disarming the man. The video appears to show him removing a piece of evidence from a crime scene. Exactly why is not clear, one would hope it was returned to the police.
Who is this gentleman? Why has he been permitted to remove the knife from the crime scene? Why was a dead body left lying in the street, uncovered and with no police cordon around the scene? Who is this man taking the photograph?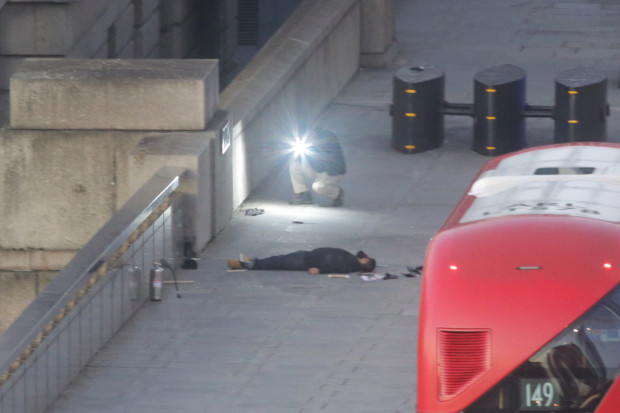 Is he an official representative of the police? Or a forensics photographer? If so, wouldn't you expect him to be dressed like these guys:
These are questions currently without answers.
Author and Journalist Sharmine Narwani raised an interesting point on twitter:
I'm not buying this. Call me a cynic, but why does "terrorism" conveniently happen RIGHT BEFORE a #UK election with a sitting Tory prime minister? Remember 2017 and Theresa May? #londonbridge pic.twitter.com/UQ3pDZ34hv

— Sharmine Narwani (@snarwani) November 29, 2019
It's a fair argument to make, with many and varied historical precedents. False flags do happen. You certainly can't rule anything out, especially at this early stage.
It is interesting that this incident should occur with only two weeks to go before the General Election. As Sharmine points out, it mirrors the Manchester Arena bombing in that respect. It is a generally accepted rule of thumb that the Tories always benefit when the nation feels under-threat.
The Guardian is already dedicated to telling a story, and controlling that story rigidly. Removing comments that even moot the possibility of an alternative motivation, as you can see here.
Whoever was behind the attack, or whatever the reality of the situation, there's no denying it is already being politicised in certain corners. Within a couple of hours of the incident, this tweet screencap was being circulated: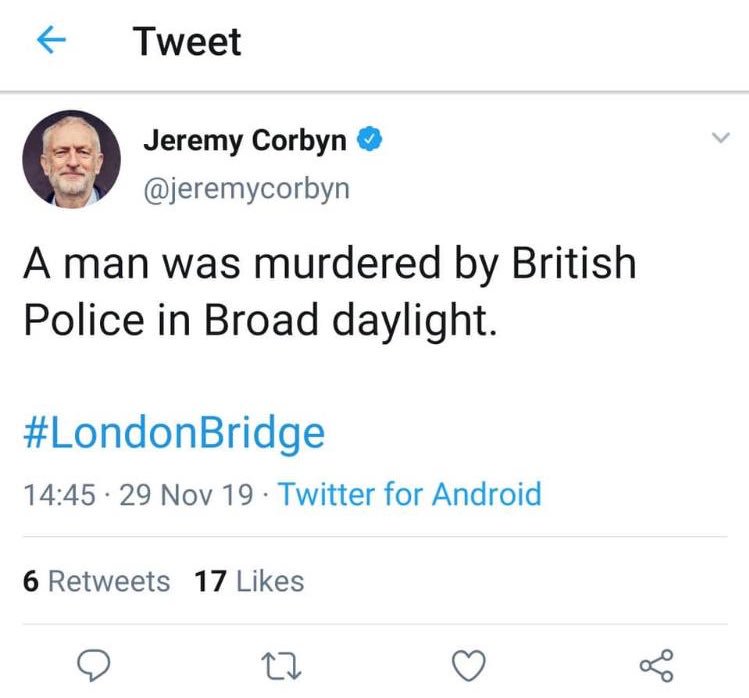 It is totally fake. A quite obvious attempt to play up Corbyn's supposed "softness" on terrorism.
So, the important questions:
What happened on London Bridge?
If it was a "terror attack", what was the purpose?
Will it be politically spun? How so?
Will it impact the general election?
As always, discuss freely below. And if you find information which you think is interesting, important, or in danger of being memory-holed, post it in the comments or send it to us directly.
UPDATE 30/11/2019 – Just some relevent/interesting information to add to the discussion.
Firstly, there's the fact Sky News claims they had a correspondent embedded with the "elite" unit that responded to the attack:
This is the moment members of the elite Police Territorial Support Group responded to the London Bridge attack.

Our Home Affairs Correspondent @skymarkwhite was filming with them when they got the call.

Read the latest on the incident here: https://t.co/b0EsILlDU9 pic.twitter.com/mLiClO1hJR

— Sky News (@SkyNews) November 30, 2019
The identity of the alleged attacker is now public too, his name was Usman Khan and he was – as the saying goes – "known to the authorities". The current story is that he was convicted on terrorism charges in 2012, and was released on license late last year, despite initially being deemed too dangerous to be released.
Another of the alleged "heroes" has also been identfied, in the media, as James Ford, a convicted murderer on day-release.
SUPPORT OFFGUARDIAN
If you enjoy OffG's content, please help us make our monthly fund-raising goal and keep the site alive.
For other ways to donate, including direct-transfer bank details click HERE.